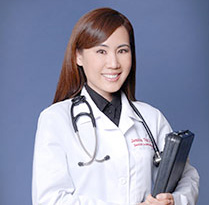 Dr. Jessica Tsai is a dentist anesthesiologist who is trained in a wide range of anesthesia techniques helpful to dental practices. She provides the comfort and safety of monitoring, sedation, and general anesthesia for dental patients treated in surgery centers and private offices. Having completed a hospital residency at Loma Linda University, Dr. Tsai has advanced training in clinical pharmacology and emergency care. This allows her to competently assess and manage the risks inherent to dental anesthesia and to provide treatment for adult and pediatric populations.
Since embarking on her professional career, Dr. Tsai has come to realize her genuine love for the pediatric patients and has now dedicated her practice to caring for children and adolescents.
After receiving a Bachelor of Science degree from UCLA in Neuroscience (Cum Laude), Dr. Tsai continued at UCLA to complete her dental education. During her time as a dental student, she consistently earned Dean's List recognition, scholarships, and many exceptional performance reports. Dr. Tsai graduated with honors and achieved top board scores.
After several years in private practice, Dr. Tsai continued her education with residency training in Anesthesiology at the School of Dentistry of Loma Linda University in Southern California. Here she was trained in all modalities of medical anesthesiology, with a focus in caring for pediatric and adult patients with special needs and complex medical conditions. She is certified in Basic Life Support, Pediatric Advanced Life Support, and Advanced Cardiac Life Support with the American Heart Association.
Dr. Tsai is a member of American Society of Dentist Anesthesiologists, International Anesthesia Research Society, American Dental Association, California Dental Association, and Western Los Angeles Dental Society.