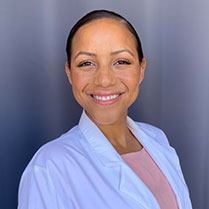 Dr. Michelle Brown, a board-certified general dentist, grew up in Los Angeles, CA in the Leimert Park area. She attended the all-girls school, Marlborough School, graduating with honors in 2008. She competitively played Tennis in Southern California and nationally throughout childhood, earning a full scholarship to college in Washington,DC. She graduated summa cum laude and phi beta kappafrom Howard University with a Bachelors of Science Degree in Biology in 2012.
She returned to Los Angeles to attend the Herman Ostrow School of Dentistry of the University of Southern California (USC) as a recipient of the Colby Scholarship Award.
During her time at USC she was a member of the Special Patients' Selective, Stsudent National Dental Association (SNDA), and the Dental Humanitarian Outreach Program (DHOP). DHOP allowed her to travel internationally to Nairobi, Kenya and Treasure Island, Jamaica to provide dental services for the underserved.
Upon graduating in 2016 from USC, Dr. Brown has spent the past years working in community-based dentistry for a non-profit in the greater Los Angeles area before joining the Children's Dental Specialist family.