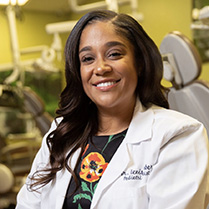 Dr. Yarber spent her childhood in beautiful Anchorage, Alaska and attended high school in Federal Way, Washington. She received her Bachelor of Science Degree in Dental Hygiene from the Herman Ostrow School of Dentistry at the University of Southern California (USC) in 2002. She continued her education in dentistry at the USC School of Dentistry, where she received her Doctor of Dental Surgery degree. During her studies, she was the recipient of the Doctors Out To Care Award, the USC Century Award for Academic Achievement, the American Dental Hygiene Association Award for Commitment & Service, and the Colgate-Palmolive Outstanding Leadership Award.
Upon graduation, she was appointed a position as a member of the USC School of Dentistry faculty and served as a liaison for the recruitment and retention of underserved students into the profession of dentistry.
With a passion for the oral health care needs of children, Dr. Yarber completed an Advance Pediatric Dental Residency at Columbia University College of Dental Medicine's Harlem Hospital based program in New York. In 2010, she received the Harlem Hospital New York City Health and Hospital Corporation Women in History Award for Outstanding Commitment to Patient Care.
With commitment and enthusiasm for outreach and service, Dr. Yarber is a member of Delta Sigma Theta Sorority, Inc., American Academy of Pediatric Dentistry, California Society of Pediatric Dentistry, American Dental Association, California Dental Association, National Dental Association, and serves as a member of the Angel City Dental Society.